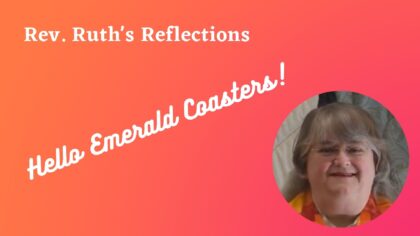 "Life is what happens while you are busy making other plans." – John Lennon
I am a planner. I always have a plan, a back-up plan and often a back-up to the back-up. My purse always contains the usual wallet and keys plus pen and paper, lipstick, cough drops, extra quarters, tissues, phone charging cord, OTC pain relief, notes, bills to pay, stamps and when my kids were young there were twice as many items.
If I could fit them in, I'd include an umbrella, change of clothes, life-jacket and parachute. Most of these I keep in my car along with paper maps that can show me where I've been, where I am going, and what lies in between, and all the alternate routes in case the GPS goes down or the creek rises along the way.
Life continues to happen, for good and ill. We make our plans and then, well sometimes folk get sick, or have accidents, or make bad choices and all our plans go awry. Sometimes folk get job offers, make new friends, get a financial windfall, and suddenly fall in love with the best possible someone, and in spite of our plans or because of them, things go well!
The trick for me is trying to remain the best version of myself no matter what. I want to be the most authentically and deeply human Ruth I can be, and live out of my ideals. Some days I do pretty well. Other days – well, as my husband Bill says, "I am a human becoming!"
My your Thanksgiving be filled with abundance and authentic love!
In wisdom and grace,
Rev. Ruth