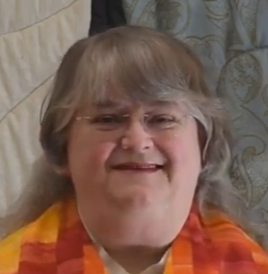 Introducing our new minister: Rev. Ruth Vann Lillian
After launching a search for a new minister last fall, your UUFEC Board of Trustees is excited to announce Rev. Ruth Vann Lillian will be joining us at UUFEC as our new contract minister, effective August 1.
Welcome, Reverend Ruth!
Here is a little background on Rev. Ruth:
Rev Ruth was born in Birmingham, Alabama where her mother Lillian Foscue Vann was a journalist with the Birmingham Post-Herald and her father David J. Vann was a mediating attorney during the Civil Rights Movement and was later elected mayor.  
Rev. Ruth received a B.A. in English from Birmingham-Southern College, an M.A.Ed. in counseling from the Univ. of Alabama at Birmingham, and an M. Div. from the Iliff School ofTheology in Denver.
She followed a call to ministry in the United Methodist Church where, beginning at age 25, she served eleven years in parish ministry before going on leave to care full-time for her children. During that time, she and husband Bill Malone found their way to the Unitarian Universalist Church of Birmingham.
During her fourteen years at the UUCB, she served in many leadership roles and in 2017 she stepped in as Interim Director of Religious Education. Following her husband's retirement from the university internet tech team, she also decided to pursue ministerial credentialing with the Unitarian Universalist Association and received Preliminary Fellowship in December 2018. She will soon complete three years as contract minister at the U.U. Congregation of Tuscaloosa.
To get to know Rev. Ruth better, members and friends are invited to take a look at her professional search website: www.revruth.org and use password: uuonthebeach