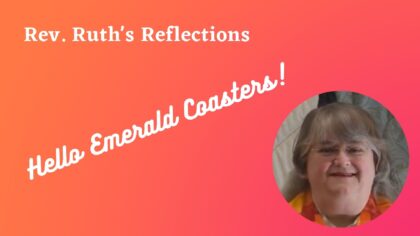 Well, Covid finally got around to my house! We celebrated the Labor Day weekend in a family chorus of coughing and sneezing.
Two years ago, I was so frightened that this might happen, that my family could be in serious danger. Now I have seen how well the vaccines are working, keeping the infection mild in this milder variant of Covid. We've had most of symptoms represented here: coughing, sinus congestion, fever, fatigue, nausea. All of us are moving through and showing signs of recovery.
I know many of you have experienced this also. There is neither honor nor shame in joining this club of Covid survivors. The human story is now divided into parts marked "Before Covid" and "During Covid"! Whether there will ever be an "After Covid" chapter remains to be seen. Until recently, we thought we were living "After polio."
We are both fragile and resilient beings. While I am feeling a little fragile at the moment, I have confidence in my resilience and I wish that for all of you!
Let us focus our broad-spectrum UU spiritual energies on our community and on each other for health, healing and wholeness!
In wisdom & grace,
Rev. Ruth