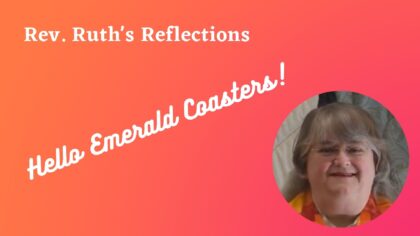 On Sunday, we will meet for our fall Annual Meeting during which we will elect officers to serve our congregation in 2022. I can't emphasize strongly enough how important it is that everyone join the zoom to participate in this meeting.
The democratic process of people having the right, opportunity and responsibility to vote on matters that concern them is one of our UU Principles and something we all hold very dear.
We have an excellent slate of folk who are willing to serve to manage and administrate the affairs of our fellowship, and we want to express our deep appreciation to them for stepping up!
Please join us on zoom for our Sunday service at 10:00, followed by a brief time to visit with one another and greet visitors (YES! We ARE getting visitors to our virtual service!) and our Congregational Meeting will begin at 11:00 ON THE SAME Zoom meeting!
It's Halloween! Dress up if you wish! See you Sunday!
in wisdom and grace!
Rev. Ruth