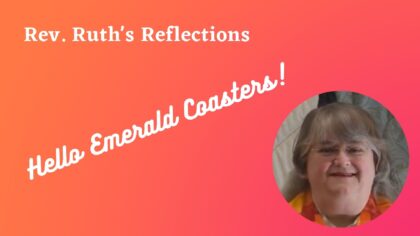 As we look toward a time in the not-too-distant future when we will gather in person again, I'd like to challenge everyone to think about how we will "Do church" differently.
Everyone has favorite memories of our pre-pandemic fellowship and a personal list of things they want to see started up again. And I have no doubt that many familiar programs will resurface.
It's probably both exciting and daunting to think about new and different ways to be together and engage in our mission. One new program will be offering our Sunday service on both in-person and virtual platforms.
Let's be thinking about how we will minister to families,, to persons of color, to people under age 45, to folk with disabilities? How will we pursue the work of justice in our larger community?
Now is a great time to revive and re-vision for our future!
In wisdom and grace!
Rev. Ruth