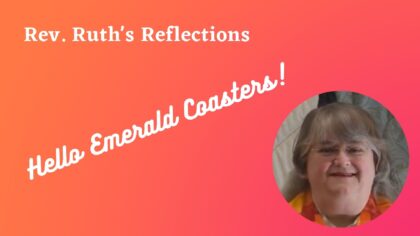 A giant inflatable Santa went up Tuesday next door to my lodgings in Ft. Walton Beach. I laughed out loud as I walked past, but it was a slightly nervous laugh.
I haven't been able to freely enjoy Christmas since I was in college. When I began working in a church I discovered that before Christmas (Advent) is the busiest time of the year for religious professionals. With such seasonal increases to the demands on my time and energy, things like choral singing, shopping and cooking all became burdens and things to get done and get through.
Fortunately I remembered the secret knowledge of the formal church calendar: Christmas takes place over 12 days (hence the song). I learned to enjoy Christmas carols, food, presents and parties stretched out from Dec 26 to Jan 5! I expect to do the same this year!
I pass this idea on to all of you. Have your party after Christmas Day! Buy, wrap and open presents afterward when the sales are on! Cook your feast and stretch out your leftovers. Put your feet up and listen to beautiful music. When people raise eyebrows, say with a shrug, "Talk to me on Epiphany. It's still Christmas at my house!"
Have a blessed November!
in wisdom and grace,
Rev. Ruth