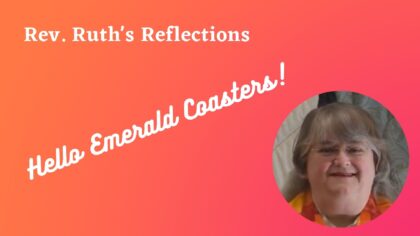 Today I received an important letter which read:
Dear Ruth,
The Ministerial Fellowship Committee (MFC) convened during a special November 1 conference call to vote on renewal applications submitted by the July 1, 2022, deadline. After reviewing your submission, the MFC voted to grant you Full Fellowship. Congratulations!
WOW! I made it!
I became a fledgling UU in 2005 and took the first steps toward credentials as a UU minister in the spring of 2017. Between then and now I have attended 5 General Assemblies, served four UU congregations, received Preliminary Fellowship in 2018, served as a UUA Compensation Consultant and a Ministerial Candidate Advisor for the UUMA, and much more!
I am deeply grateful for all the help I have received along the way, including from the Board and Committee on Ministry at UUFEC, and the Board at UUFBC. You all have taught me so much about being an effective minister!
To my parishioners in both of my wonderful fellowships, I offer a deep and heartfelt
"Thank You"!
Rev. Ruth