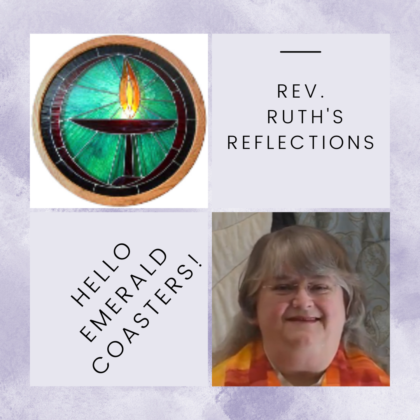 DRAG ME TO THE CAPITOL!
This was the name of the march and protest rally my eldest attended on Tuesday in Montgomery, Alabama. Liam and friends, and Alabama UUs, among hundreds of others descended on the capitol to protest two bills coming before the state legislature that are anti-LGBTQ, anti-trans, and anti-Drag.
My excellent colleague, Rev. Julie Conrady, spoke on the capitol steps, and counter-protesters decried her as a "Jezebel"!
While it is never comfortable to be verbally attacked in public like that, and Rev. Julie is a wonderful, powerful minister who doesn't deserve such abuse, it is also a kind of badge of honor.
I texted her my support and congratulations because it means she's doing it right! She and others like her are doing a great job of fighting for justice. When we suffer such attacks in the midst of our justice work, it means we have spoken truth and hit a nerve, and those behaving as enemies have no response except name-calling.
We are in a long-haul fight, my Friends. Take courage and be hopeful, and risk some name-calling. I am honored to be in such company!
In wisdom & grace,
Rev. Ruth