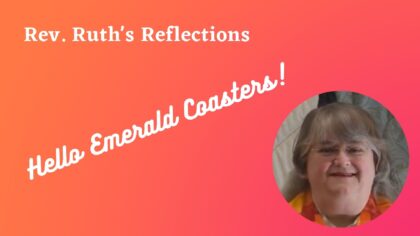 "Family" is a funny thing. We did not choose our families, and for the most part, we are stuck with what we got for parents, siblings, and extended family members.
Some family members are wonderful and some are awful. Some we are delighted to claim, and others we would prefer to never see again.
This season of multiple holidays can be a time for joyous reunions and unhappy interactions. It is also a time of grieving those who have left us and welcoming new little ones and new companions and spouses.
And there are our "family of choice," the friends who are closer than blood-kin, those whose company we seek for stimulation and solace, whom we trust absolutely. My family has been delighted to have a dear friend of many years staying with us for the last week. She is part of our family, well-versed in the ways of our household and familiar with our best and worst sides. Trust and tolerance are high in our relationship!
And now she has picked up the cold virus that several of us have been suffering with. She may be recovered by the time she heads home next week. In the meantime, she's really living into our family connection at the intimate level of coughing, sneezing, snorting, hot tea and chicken soup.
Doesn't get more "family" than that! Tissue, anyone?
In wisdom & grace,
Rev. Ruth