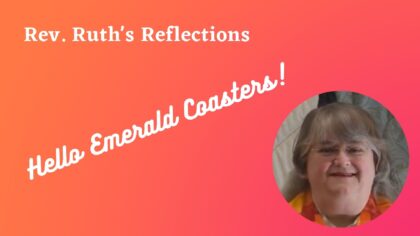 What an exciting and meaningful weekend we have scheduled!
Tonight is our Halloween Party for families and everyone who loves children! I will be attending as a pirate (think "Smee" from Peter Pan) and decorating my Prius hatch as a Monster Mouth for the Trunk-or-Treat. I hope many of you will be bringing candy in your car trunks tonight. Please let Sophia know ASAP at SophiaMarieLopez@gmail.com if you plan to attend. We'll also have pizza and a spooky movie!
Tomorrow is the community PRIDE celebration at NICEVILLE Highschool! Booth set-up at 8am. Speeches at 9. March to Walmart and back around 10. Put on your rainbow paraphernalia and join us!
A Memorial celebration for member Daisy Horn is also planned for tomorrow at 2:00 at the UUFEC parking lot under a tent. Come remember and bid farewell to a good and faithful friend!
AND we look forward to a fascinating presentation in our Sunday morning service by Dr. Hank Christen about his experiences in emergency management and how they affected his UU faith!
Too many activities? What a great problem to have after months of separation! I look forward to seeing many of you this weekend!
In Wisdom and Grace,
Rev Ruth