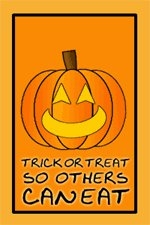 Mark your calendars for October 27th, 2019 where our RE kids will be "trick-or-treating" for food donations during the service to fight the Hunger Horcrux!
We are doing a food drive to benefit the Food For Vets food pantry.
They have asked for: Soups, Canned meat (tuna, chicken, ham, spam, vienna sausages, etc.) Jelly, Cheerios, Macaroni and Cheese, Pasta Sauce, Penne noodles, Bow tie noodles.
If you will not be at the service, feel free to bring in food items any Sunday beforehand.