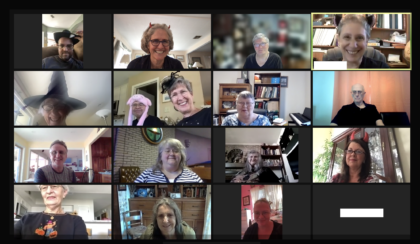 A big thank you to all who attended the Oct 31 Congregational meeting. We elected our 2022 Board and updated members on church developments.
Election of 2022 Board members
President: Jane Park
Vice President: Karen Lauer
Secretary: Linda Carson
Member at Large: Judy Byrne Riley
The 2022 Board will also include: Gil Brown, continuing as past president; Janet Chapman, finishing her two-year term as member-at-large; and Treasurer, to be appointed by the Board in January 2022.
Building
While encouraged by rapidly improving COVID-19 indicators in Okaloosa County, the Board anticipates in-person services will not be safe in calendar year 2021. We are hopeful about early 2022. We review local numbers against UUA recommendations at our monthly meetings. Holding in-person services will also require many new considerations (e.g., continued virtual presence, children's safety, mask wearing).
The Board is excited to report that the rodents are almost out of the building! We expect this will be completed by November 12 and then the great clean-up begins. We will not hold in-person services until the building is sufficiently clean from the animals.
Questions, ideas, and CLEAN-UP VOLUNTEERS are welcome. Please email President Jane (president@uufec.com).