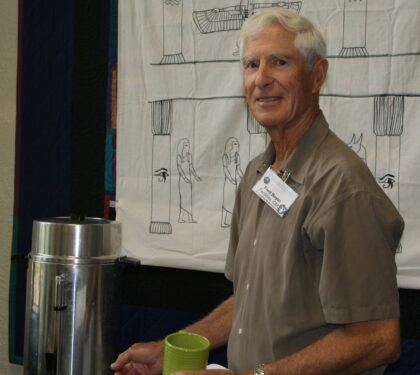 ---
A memorial service for Fred Boyer will be held next Saturday, June 26 at 2pm outdoors at UUFEC. Fred, a long-term beloved member of UUFEC, passed away on June 16.
Fred's children are planning the service, and emphasized that casual, comfortable attire is fine. Rev. Buddy Duncan, Fred's neighbor and past speaker at UUFEC, will officiate. After the service, there will be snacks (Fred's famous gumbo!), along with soft drinks/tea and water, if people want to visit.
If you would like to help out with the service, please call or text Judy Byrne Riley: 850-217-4003.
---
It is with profound sadness that UUFEC shares the news that long time UUFEC member Fred Boyer passed away on June 16, 2021 after a long and courageous battle with cancer.
Fred has been a member of our church family since August of 1978, making him one of the longest serving members. Fred brought with him his military experience and his willingness to help. Among the many, many kindnesses and gifts he has given the fellowship over these many years, most recently Fred was maker of the Sunday morning coffee, preparing it early as he readied the building for the service and the members.
We send his wife, Judy, and his three children and his grandchildren, our sincere condolences and sadness of his passing.