What We Are Learning
Nursery (birth – Kindergarten)
Our nursery is open each Sunday for both first and second hour programs. During summer our nursery age is expanded so kindergartners can play in nursery when other children are in service.
School Age Children (1-5) – Harry and UU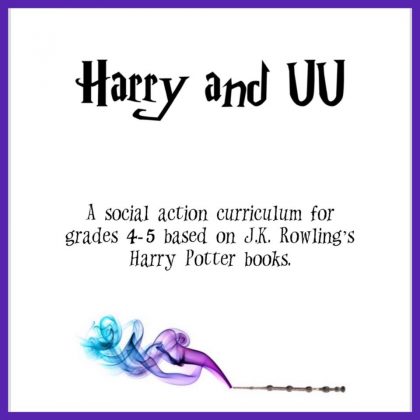 We invite all our elementary aged witches and wizards to hop on the train to Hogwarts as we begin our social justice curriculum, Harry And UU! We are in for an exciting year as we work together as members of a chapter of Dumbledore's Army and battle Horcruxes! This will be a fun program where our witches and wizards will delve into social justice lessons in an immersive experience complete with potion brewing, charms, herbology etc., while engaging the entire congregation throughout the year.
Please note that while this curriculum is geared towards elementary ages, older kiddos are also welcome! And if they would like, they can be Prefects and help our younger witches and wizards as they learn and grow! Please email our Director of Religious Exploration Sophia Lopez with any questions or concerns at dre@uufec.com
Youth Group – Chalice Peeps
This summer our youth group will be continuing the redesign of the Stage Room. Come ready to get messy! Our project includes lots of painting, even more conversation, and loads of fun.
Lunch Bunch (1st and 3rd Sundays) – 12:15-1:15
"Lunch Bunch" will be offered for first and third hour committee meetings. Please pack you child a nut-free lunch. From 12:15-1:15, children will have an opportunity to eat lunch together and have extended play time with our childcare staff.