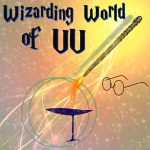 Our Wizarding World of UU camp registration is now open! Camp is for students entering grades 1-6. We will be battling the environmental "horcrux" with a focus on our UU principles.
WHEN – July 3-7 (no camp on July 4th)
TIME – 9:00 – 12:15
PLACE: UUFEC
COST: $35.00 for the first child, $25.00 for each additional child
(contact gorden.farley@gmail.com if there is a need for tuition assistance).
REGISTER AT:
https://form.jotform.us/61454288587166
Please register ASAP. The earlier families register the more time our volunteers have to prepare a fun & educational camp.
Thanks and see you at camp!
Lisa Farley