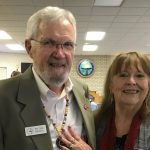 Hello UUFEC-
Over the past 7 months, our Ministerial Search Committee (Jennifer Conroy, Karen Lauer, Stephanie Marshall, Brian O'Connell and Jane Park), has been working hard to find UUFEC's next minister. This Committee has publicized our position, gathered congregational perspectives on future ministry, and vetted potential candidates. After careful consideration, the MSC enthusiastically recommended Rev Doak M Mansfield to the Board. The Board was equally excited and after a long weekend of interviews, more discussion, and enjoying a sermon provided by Rev Mansfield at UUFEC, offered Rev Mansfield a contract. Today, Thanks especially to the work of the MSC and the Board, we have a signed contract and it is now official- UUFEC has a new, half-time, consulting minister, Rev. Doak M. Mansfield!
A native of Tennessee, Doak was ordained in 1976 by the First Universalist Society of Cincinnati – now Heritage Universalist Unitarian Church, where he is Minister Emeritus. After his decade of service there, he was first extension and then called minister of the UU Church of Huntsville, AL. He served there from 1985 to 2000.
A nine year 'medical sabbatical' was concluded in 2010 with a successful heart transplant. He returned to intentional ministry in 2011.
Overall, he has served UU congregations in six states (Ohio, Alabama, Mississippi, North Carolina, Florida, and Washington) and is currently the minister of Community UU Church in Pasco, WA. Before his Washington State ministry, he served as Interim for the UU Church of Tampa, 2013-15.
His career is also notable for serving 8 years as US Army Reserve Chaplain, serving as a Staff Hospital Chaplain, and he was founding chaplain of a non-profit hospice. Additionally, he's published three books.
Doak's pride and joy are his two sons (Cincinnati, OH and Warner Robins, GA) and five grandchildren. His wife Peggy is retired from a 35 year career with the American Red Cross as Youth Director with ARC Chapter in Pensacola, FL and then Executive Director in their hometown ARC Chapter of Laurel, MS. She is a long-term social justice advocate and volunteer, working diligently with Doak during the Hurricane Katrina adventure in South Mississippi, and currently devoting herself in Pasco to efforts to help the homeless.
Doak joins us August 1, giving his first service August 5. In general he will be speaking on the first, third and fifth Sundays of the month. He will also be providing part-time foundational ministerial support, including pastoral care, supervision of church staff, and support to committees. He is aware of, and enthusiastically committed to UUFEC's current programs and mission.
Please do give him a hearty welcoming hug when you see him in August.
-Gil Brown,
President, Board of Trustees