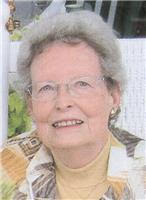 Jo Ann Laible, 80, died at Sacred Heart on the Emerald Coast Hospital on June 5, 2017. She was born in Bloomington, Illinois, on January 26, 1937, the daughter of Howard and Mary Jo Allington Ivens. She grew up in Normal, IL, graduated from University High School, earned a BS in ED from the University of Illinois and an MS in ED from Eastern Illinois University. She taught in St. Paul, MN and Charleston, IL. She was a member of Delta Delta Delta sorority, the P.E.O. Sisterhood, and the Unitarian Universalist Fellowship of the Emerald Coast. She was also a longtime member of the Illinois League of Women Voters.
Jo Ann and Jon Laible were married on June 14th, 1959, the day after college graduation, having been neighbors and good friends since kindergarten. They had just short of 58 years of happy marriage. She is survived by her loving husband Jon, daughters Kathy Jo Laible of Nevada City, CA, Jackie Ann Muhs of Darby, MT, son Michael Howard Laible of Springfield, MO, and grandson Gustave Muhs of Whitefish, MT. One son, Kenneth Russell Laible predeceased her in 2002. She also is survived by her brother Stephen Ivens of Trout Creek, MI and brother-in-law James Laible of San Rafael, CA. Jo Ann treasured her many friends and took great pleasure in keeping in touch with them. She loved the annual weekend reunion with grade school girlfriends.
Jo Ann and Jon raised their family in Charleston, Illinois where they lived for 45 years. In 2009 they moved to Florida where they loved their new neighborhood in Miramar Beach and enjoyed retirement in the warm winters. From an early age Jo Ann spent summers in Michigan's Upper Peninsula. Robinson Lake became the summer home for the whole family.
A private celebration of Jo Ann's life will be held at a later date. Arrangements for cremation were handled by the Davis Watkins Funeral Home of Fort Walton Beach, FL.
Memorial donations may be made in her name to a charity of the donor's choice.
To share memories, express condolences and sign the guestbook, please visit www.daviswatkins.com
Funeral Home
Davis Watkins Funeral Home​ 1326 Lewis Turner Boulevard
Fort Walton Beach, FL 32547
(850) 864-1822
Published Online in Northwest Florida Daily News on June 7, 201
– See more at: http://www.legacy.com/obituaries/nwfdailynews/obituary.aspx?page=lifestory&pid=185725842#sthash.drthgQw3.dpuf