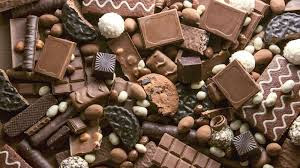 On February 10, our Fellowship will be celebrating the season of love with a Chocolate Communion. We need your help in 4 ways!
1. We're making a slide show of pictures you send in.
What makes life sweet for you?
Is it a person? A place? A hobby or activity?
Send Ed Farley a photo for the slideshow at farley310@gmail.com
2. We need brave souls to speak for a moment or two about what makes your life sweet. You could also read a poem about love, or about your topic, like boating or painting or travel or whatever you love.
3. A few volunteers are needed for very short speaking parts for the opening words. See Amanda Piburn to volunteer for any speaking parts.
4. Even if it isn't your usual Sunday to bring snacks, feel free to bring something CHOCOLATE! The more the better! Those who are normally scheduled to bring snacks that day are asked to bring either chocolate or healthier foods to balance the sweets. Thank you!